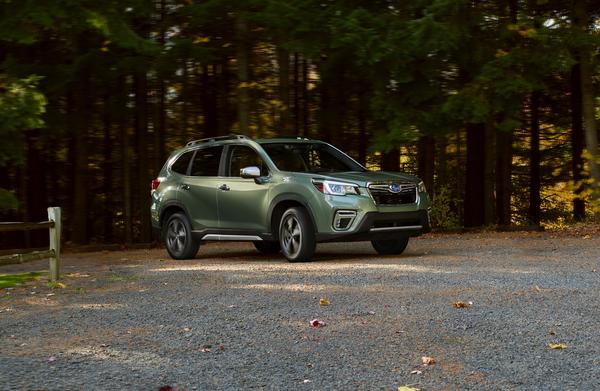 Looking Ahead to the Exciting Safety Features and New tech on the 2019 Subaru Forester
The 2019 Subaru Forester will be the roomiest and most capably well-equipped Subaru Forester model yet. Looking ahead to the release of this new Subaru SUV model in late 2018, we can already tell that there will be plenty of new and exciting features for drivers from Dallas-Fort Worth to look forward to. Driving has never been as enjoyable, convenient, and safe, as you'll find it to be inside the 2019 Subaru Forester, coming soon to Sewell Subaru in Dallas!
New Platform and Engine Power the Most Capable Subaru Forester Model Yet!
The 2019 Subaru Forester is built on Subaru's new Global Platform, offering a more responsive and enjoyable driving style while also increasing crash-resistance and overall durability. All 2019 Subaru Forester models will come equipped with Subaru EyeSight Driver Assist Technology, offering an extra pair of eyes to watch the road with you and, when necessary, an extra foot on the brake pedal. The Subaru EyeSight System monitors traffic movement and lane position, to optimize cruise control speed, and prevent drowsy drivers from swaying from their lane. Subaru EyeSight also includes automatic emergency braking, which can sense and prepare for a collision before drivers, and take necessary action.
The 2019 Subaru Forester will also feature Subaru's signature BOXER engine with enhanced direct-injection, producing 182 horsepower and 176 pound-feet of torque from a 2.5-liter four-cylinder BOXER engine with Subaru's Symmetrical All-Wheel Drive connected to a continuously variable transmission. Inside, driver and passengers will enjoy a more spacious interior than ever before thanks to its wheelbase growing by more than two inches. Enjoy a remarkable 76.1 cubic feet of cargo space with the 60/40 rear seats folded down. Whatever you've loved about driving the Subaru Forester before, there's more of it to love than ever in the 2019 Subaru Forester SUV.
Visit Sewell Subaru to Test Drive New Subaru Models and Learn About Exciting Upcoming Models
We hope you'll visit Sewell Subaru to test drive and experience the quality of all our new Subaru models and share in our excitement for the release of the 2019 Subaru Forester SUV. Our team is just as excited for the release of the new Subaru Forester as you are, and we'll gladly answer all your questions about what we're looking forward to in this exciting new Subaru SUV. We hope to see you soon at Sewell Subaru in Dallas!