What Is Subaru X-Mode and How Does It Work?
If you have spent any time researching either the Subaru Forester or Outback, than you have likely come across the X-Mode feature. But, what exactly is it? And how does it work? The team at Sewell Subaru is here to simplify this feature and detail its many attractive benefits.
Subaru is well-respected in the automotive industry and among drivers for its legendary all-wheel-drive system and capabilities. While this performance feature will assist drivers in inclement weather, X-Mode can provide even greater traction and control when combined with AWD. This feature comes standard for drivers of the Outback and is offered to those who prefer the Forester.
X Mode Is Designed to Increase Traction and Control in Inclement Driving Conditions
Drivers can activate X-Mode by the simply pushing the button marked "X-Mode" on the center console. After doing so, an indicator light will appear on the vehicle's instrument panel. When X-Mode becomes operational, the multi-function display will notify the status of the anti-lock braking system, driving wheel, steering angle, and in some instances the vehicle dynamics control system.

X-Mode becomes operational at 18-mph and below; once the vehicle exceeds that speed, X-Mode will stop functioning. To ensure you get the most traction and control out of each drive, drivers can also activate hill descent control, which is operational up to 12-mpg. This will help your Subaru vehicle maintain a safer starting speed when maneuvering down a steep incline.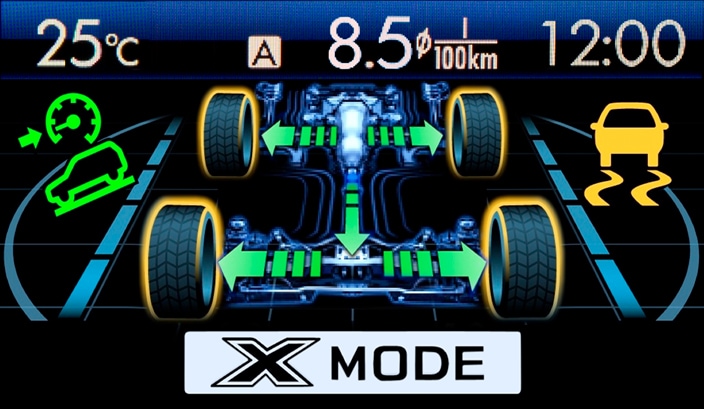 The Benefits of X-Mode
When X-Mode is activated, your vehicles wheel-spin is reduced dramatically. It also reduces the accelerator input for more control of the engine's output. Evidently, the most obvious benefit of X-Mode is its ability to increase traction and control, thus providing you with an overall safer ride.
If you're interested in learning more about X-Mode and the Subaru vehicle's that equip it, we encourage you to reach out to our dedicated team by calling 877-540-8839.