The 2023 Subaru Love Promise Customer and Community Commitment Award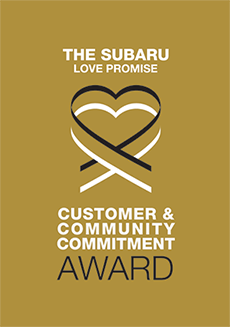 We've been nationally recognized for our dedication to our customers, our community, and the Subaru Love Promise.
We're honored to receive the 2023 Subaru Love Promise Customer and Community Commitment Award. This award nationally recognizes elite Subaru retailers who provide an exceptional customer experience at every interaction with Subaru. These retailers have also demonstrated an outstanding commitment to supporting passions and causes in their local communities in important areas such as the environment, community, health, education, and pets.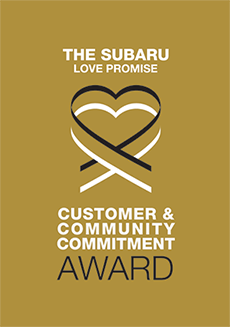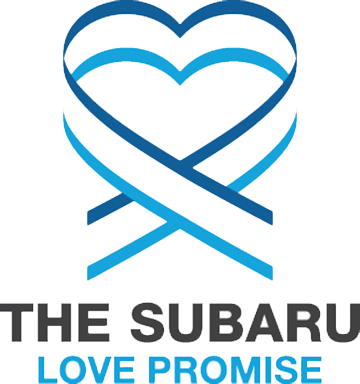 What is the Subaru Love Promise?
Subaru and our retailers believe in making the world a better place and the Subaru Love Promise is our vision of respecting all people. This is our commitment to show love and respect to our customers and to work to make a positive impact in the world.
How is Sewell Subaru dedicated locally to the Love Promise?
Our Love Promise can be seen in various partnerships with local charities and non-profits. We are grateful for the opportunity, not only to be a part of our community, but to serve it as well.
Harry C. Withers Elementary School
Parkland Memorial Hospital
Love Promise Stories from Sewell Subaru
Subaru and Sewell Subaru believe in making a positive impact on the communities in which we live and work. We uphold that belief through our Love Promise Community Commitment. Every month, we select inspiring stories from customers and partners from around our area who strive to support our collective commitment and feature them here
SPCA of Texas Pet Adoption at Sewell Subaru - Laura M
SPCA of Texas is honored to partner with Sewell Subaru. We appreciate their team's compassion and dedication to helping animals in North Texas receive exceptional care and find a loving home. At the most recent Subaru Loves Pets adoption event, we were able to do just that. We are excited to share Arwen's Happy Tail. Arwen is a merle-colored, 5-year-old lab retriever hound mix (our best guesstimate) that recently birthed a litter of cuties. The underdog family arrived under unfortunate circumstances, as they were collected as a part of a large-scale seizure in Van Zandt County, Texas, along State Highway 110. Our Animal Cruelty Investigations (ACI) Unit arrived at the property in late August 2022 and began the intake process for the seized furry friends. Upon arrival, it was apparent that all of the animals were neglected and existed in very difficult circumstances. This could be seen in Arwen's coat; there were bald spots on top of her skin-and-bone frame. It is difficult to look back at the photos of her and be able to count her ribs. As Arwen and her pups went through adoption preparation, her calm demeanor won her a lot of friends, two-legged and four-legged alike at our shelter. Arwen patiently waited for her furever family, as she wished her puppies "Happy Tails" as each of them was quickly adopted upon being made available. Finally, the mobile adoption events at Sewell Subaru as a part of the ASPCA's Subaru Loves Pets campaign presented the perfect opportunity for Arwen to shine. Arwen left with a family through our foster-to-adopt program, as she had several remaining procedures, including dental surgery and mass removal. After Arwen's final post-op follow-up, she officially joined her furever home. Thank you again, Sewell Subaru. We appreciate your hard work in helping so many animals in need!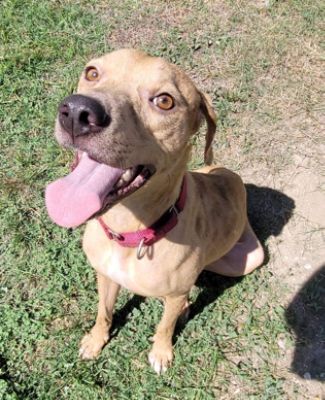 ---
Sewell Subaru Supports Guide Dogs for the Blind - Beth A - Beth A
On behalf of Guide Dogs for the Blind and the Guide Dogs for the Blind Dallas Club, I want to thank Baden Rowland, General Manager, and the entire Sewell organization for their support. The support we have received from both the dealership and through the Share the Love program has been life changing for many. With support from Sewell, we were able to bring Guide Dogs for the Blind puppy raising to Texas. We have now raised over 200 puppies throughout the state. Many have gone on to be working guides, providing mobility and independence for their partners. Some have gone on to become K9 Buddy Dogs for visually impaired children. Some have gone on to be diabetic alert dogs, hearing dogs, animal assisted therapy dogs... the list goes on. Sewell Subaru's support has allowed us to transport our pups to and from campus and provide specialty veterinary care. During the height of the pandemic, their support helped feed every puppy in training in the state of Texas. Sewell's donations have funded many, many socialization experiences for our pups and training for our raisers - contributing greatly to our pups readiness to become guide dogs. We are so thankful for their support. Above and beyond the financial contributions, the kindness, support, encouragement, and love we all feel from Baden and the Sewell Subaru staff is immeasurable. We truly could not do this without them!!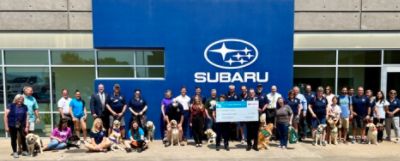 ---
Not only satisfied customers, but delighted - Brad C
My wife and I were traveling from Ely, Nevada to Dallas for the World Robotics Competition our son was competing in. Alas, our 2020 Outback was having some issues with the battery, and we needed to get it serviced. Sewell was close by, so we brought the car in to see if someone was available to check it out. Of all car dealerships and service departments we have ever visited, we have never been so amazed at the quality of service as we were at Sewell. From the moment we drove into the service lane, everyone was SOOOO helpful. Corbin made us feel like we were the most important people in the room. He was efficient, polite, and knowledgeable - whatever he's making, pay him more. He humanized the experience in such a way that made the visit seem like a joy rather than a task. He was in constant contact with me throughout the process, and our car was even ready to go before we anticipated it would be. Outside of Corbin's professionalism, the logistics and processes in place at Sewell were impeccable. From the texts to the pick up process, we were astounded at how smoothly everything ran as part of the service department. The cashier offered us chocolates for the road. AMAZING! I'm a university professor, and I do a great deal of research in applied sciences. Much of the research in business and hospitality management delineates the difference between customer satisfaction and customer delight. Let me say that Sewell Subaru is the physical manifestation of the systems, policies, and practices that lead to customer delight and the likelihood that customers will return in the future. You have my word that the next time we buy a Subaru, we will visit Sewell Subaru to purchase it and then drive it back to Nevada - your service is totally worth it. All we had was a battery replacement today, but the quality of our experience at your dealership left us not only satisfied as customers, but delighted.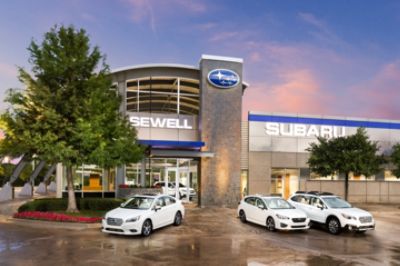 ---
Thank You Sewell Subaru - A Customer Focused Team - Shiva K
My Journey with Sewell Subaru started in the year 2019 when I picked up my first WRX from your dealership and Will from your sales team assisted me then and the experience provided then was excellent. This experience was equally followed by your Service team namely Christopher who ensured that my car was very well taken care of during this period. With Subaru launching the refresh model of the WRX, I was eager to get information on the car and Venessa from the front desk always ensured that my questions were promptly answered by your sales team even before the car actually hit your showroom floor in-addition to making me feel welcome in your showroom. With most of my questions answered, I decided to get the new WRX for myself and I approached your Sales Agent, Taylor. My interactions with Taylor started somewhere in the mid week of May and she did answer all my questions on the new car and is one of the pivotal reasons for me to go ahead and order the car without me even taking a test drive of the car. I explained to her the reason for me getting the new WRX and she was patient enough to hear me out on my requirements with complete attention. She followed up with me regularly and was very kind enough to offer me multiple test drives on the new WRX whenever your showroom had a car to spare for me to have an Apples to Apples comparison which pretty much sealed my decision to own the new WRX. During one of my interactions, I asked her about the missing Hood carpet on the new WRX and she reached out to Subaru for further information and provided me with their response. I must admit that I am a hard customer considering I have an affinity towards cars and my questions were pretty technical in nature and she answered all of them without fail. The test drives, the documentation, the exchange formalities, the delivery, etc. were extremely well handled by her and Matea. They together made my experience stress free and without doubt, I would love to buy all my subsequent cars through Taylor. Robert again from the Sales team was patient enough to listen to me on the Wheel and Tire protection and ensured that I was a happy customer at the end of the day. It was great talking to him during the purchase of my car. I have taken delivery of my new 2022 WRX Limited on the 28th of July and have already put in some miles on the car. It is a fantastic car offered by Subaru sweetened by your impeccable dealership. I can sing praises for your dealership, your staff and you have rightfully earned a lifelong customer. I would like to thank you for facilitating such a great experience to your customers and I wish Sewell the best in the years to come.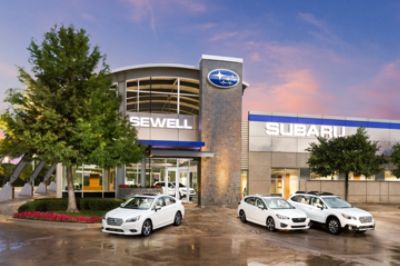 ---
Sewell Supports UT Southwestern - Amanda T
Thank you so much for the wonderful donation to the UT Southwestern Harold C. Simmons Comprehensive Cancer Center. It was delightful to have so many Sewell folks come out and support our Support Services program. I know the blankets, bears, and craft kits will make a huge impact on our patients helping us provide them excellent and compassionate care. Please forward my thanks to all who participated and know how truly grateful we are and appreciate you all.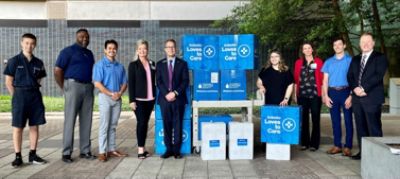 ---
Exceeds Expectations - Scott W
I am reaching out to convey my positive experiences with Maggie, my service advisor at Sewell Subaru in Dallas. Maggie's level of service has exceeded my expectations, defining an expectation as "how it usually goes". Maggie excels in five key areas that work well for me. 1) She is good at using multiple modes of communication. No other service advisor I have had at Sewell over the last six (maybe seven) years has leaned into using text as Maggie has. This allows me to fit communicating with her when I have a moment. 2) She excels at thorough, timely responses to my questions. She also is good at keeping me updated on project progress. This helps me make informed decisions and then know what is happening. That is a recipe for feeling comfortable in my book. 3) She remembers our conversations from days ago as if we had just spoken. It is so nice to not have to repeat myself. 4) She is willing to to take the team lead/ single point of contact where possible. I recently had a situation in which my insurance company requested a W-9 form. Maggie could have referred me to another department, and I would have understood. She handled it herself. So refreshing. 5) While accomplishing these levels of execution she is polite, personable, and reasonable. It as if we have worked together for years. In fact we met only last month. Although I know I am one of many customers, at the same time I feel special. It is as if I am in on an exclusive club. I would include a "room for improvement" note if I had one, but I don't. I hope this letter supports the recognition and rewards Maggie deserves. For selfish reasons I hope Sewell is able to keep her happy at work. I want to work with her next time I bring my Outback in, then my next Subaru.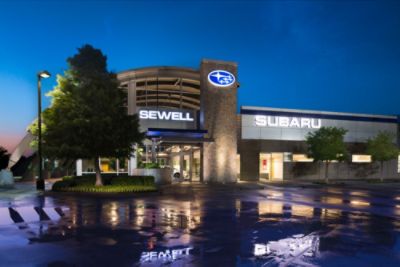 ---
Exemplary Service at Sewell Subaru - Michael C
I am writing on behalf of my wife, Crystal, to commend Luis on his assistance with our recent purchase of a 2022 Forester. From the beginning to the end of this process, Luis was attentive, informative, polite, and professional. He kept us updated on the delivery of our vehicle over the 10 plus weeks our vehicle was in the production queue and promptly responded to all of our phone messages and emails. It is not often that I have the opportunity to praise a salesperson, but Luis' handling of our order (and of us) has been exemplary. Crystal and I feel Sewell Subaru is fortunate to have him on your team.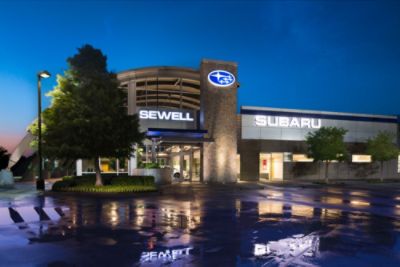 ---
UT Southwestern Blanket Delivery with Sewell Subaru - Emily E
LLS was honored to work with Sewell Subaru as part of the Subaru Loves to Care program to deliver blankets to UT Southwestern this June. Sewell Subaru generously donated and hand-delivered 80 warm and cozy blankets to UT Southwestern to spread hope to the patients at the hospital. The thoughtful donation was warmly received by the staff at UT Southwestern and will bring comfort to patients while they are receiving treatment. LLS is thankful for the support of Sewell Subaru in bringing light to the darkness of cancer and supporting the mission of LLS. Thank you Sewell Subaru for choosing LLS and making a difference in the lives of patients.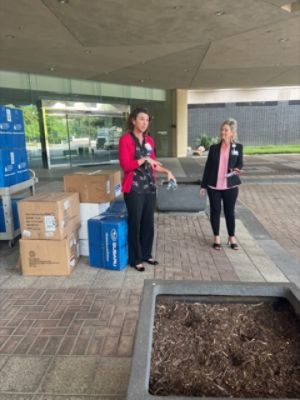 ---
Sewell Subaru Loves Pets and SPCA of Texas - Laura M
The SPCA of Texas is so thankful for the continued partnership with Sewell Subaru during the annual Subaru Loves Pets adoption events. Our mission is to provide every animal exceptional care and a loving home, and Sewell Subaru help us achieve that. At the most recent event, one special underdog named McLovin found his forever home! McLovin is an owner surrender. As a pitbull terrier mix, his breed often faces restrictions for many renters, limiting his potential adoption options. Additionally, he tested positive for heartworms. The SPCA of Texas provided the heartworm treatment for him, as well as the time, space and TLC for him to recover. We are happy to report that McLovin (now known as Bear) is healthy and thriving with his new family and they are completely smitten with this sweet boy. He is a fast and eager learner and is already 100% potty trained! Bear has also learned several commands since arriving in his new home. In the photo provided, you can see that Bear went as a Dallas Maverick for Halloween and was a huge hit! Thank you again, Sewell Subaru. We appreciate your hard work and compassionate partnership in finding loving homes for so many animals in need!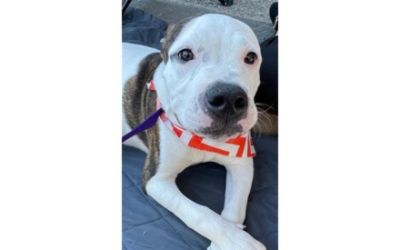 ---
Supporting Harry C. Withers Elementary - Ashley R
Thank you to Sewell Subaru for their kind words of encouragement to our teachers and staff at Harry C. Withers Elementary in Dallas, Texas. Our teachers are patient, active and engaged but the continued weight of COVID safety protocols and the ever- evolving climate has added stress to their educational commitment. Sewell Subaru and their customers contributed positivity in our hallways to show support for our staff by delivering a yellow school bus with optimistic notes. Our PreK- 5th grade students thank you for thinking of us and for boosting our teachers to keep turning the dial, one student at a time!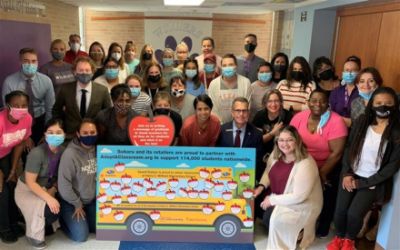 ---