Prototype vehicle showing pre-production features that are subject to change.
Power adventure with the Subaru SUV of electric vehicles.
The most technologically advanced Subaru ever made is here. Built on Subaru's first-ever all-electric architecture - the e-Subaru Global Platform - the 2023 Subaru Solterra, named by combining the Latin words for "sun" and "earth," is the first AWD electric vehicle to feature the legendary standard capability of Symmetrical All-Wheel Drive. Packed with next-generation features inside and out, the Solterra offers 8.3 inches of ground clearance, a stunning available 12.3-inch touchscreen, state-of-the-art active safety, and the trusted reliability of a Subaru in a zero-emissions, all-electric SUV. 
Adventurous and Versatile SUV
8.3 Inches of Ground Clearance and X-MODE
The 2023 Solterra features 8.3 inches of ground clearance and short overhangs for easy maneuverability over rough terrain - so you can go places traditional electric vehicles typically can't reach. Standard X-MODE with Hill Ascent and Descent Assist lets you choose the perfect traction setting to match the trail conditions in front of you for enhanced stability and total control.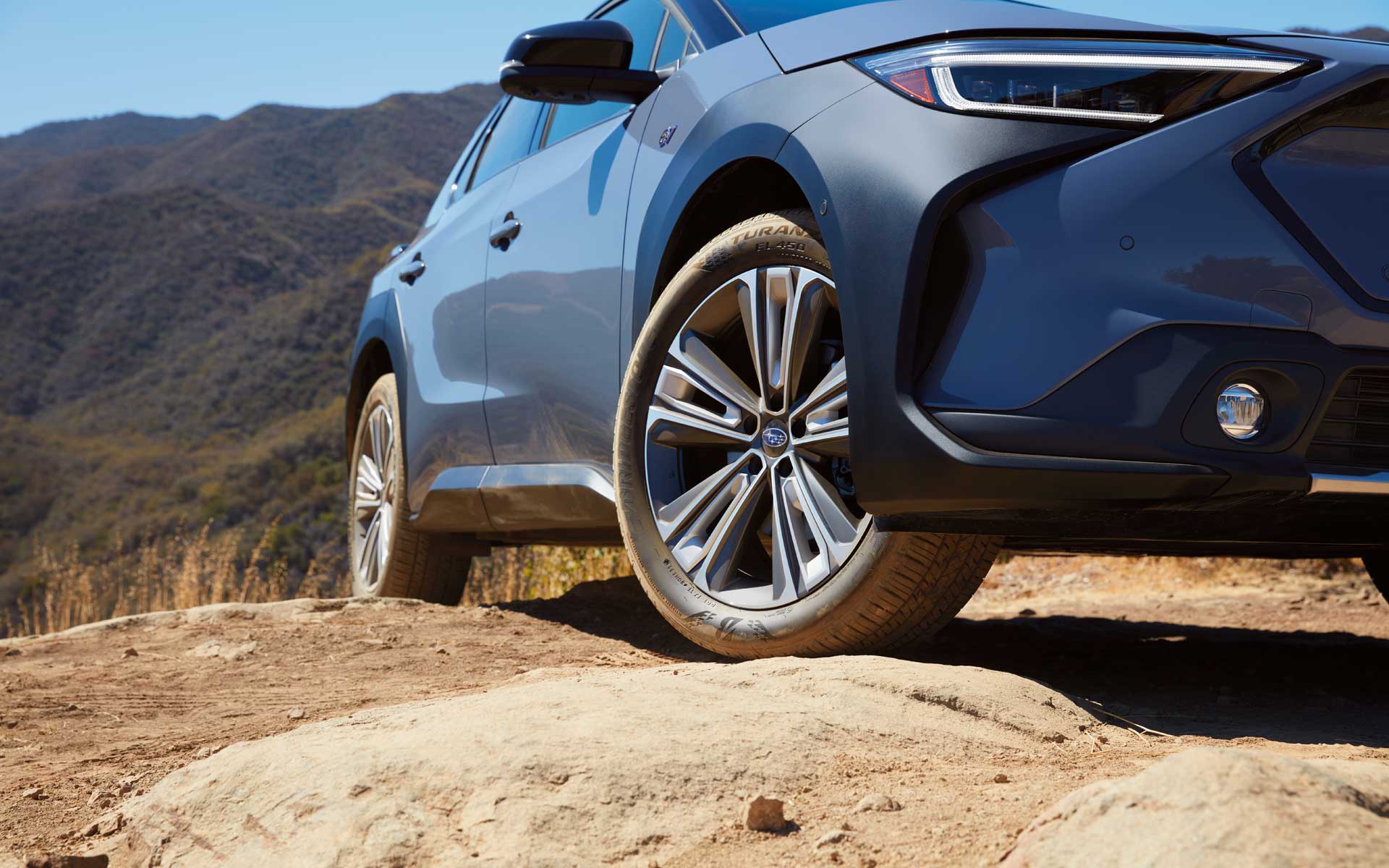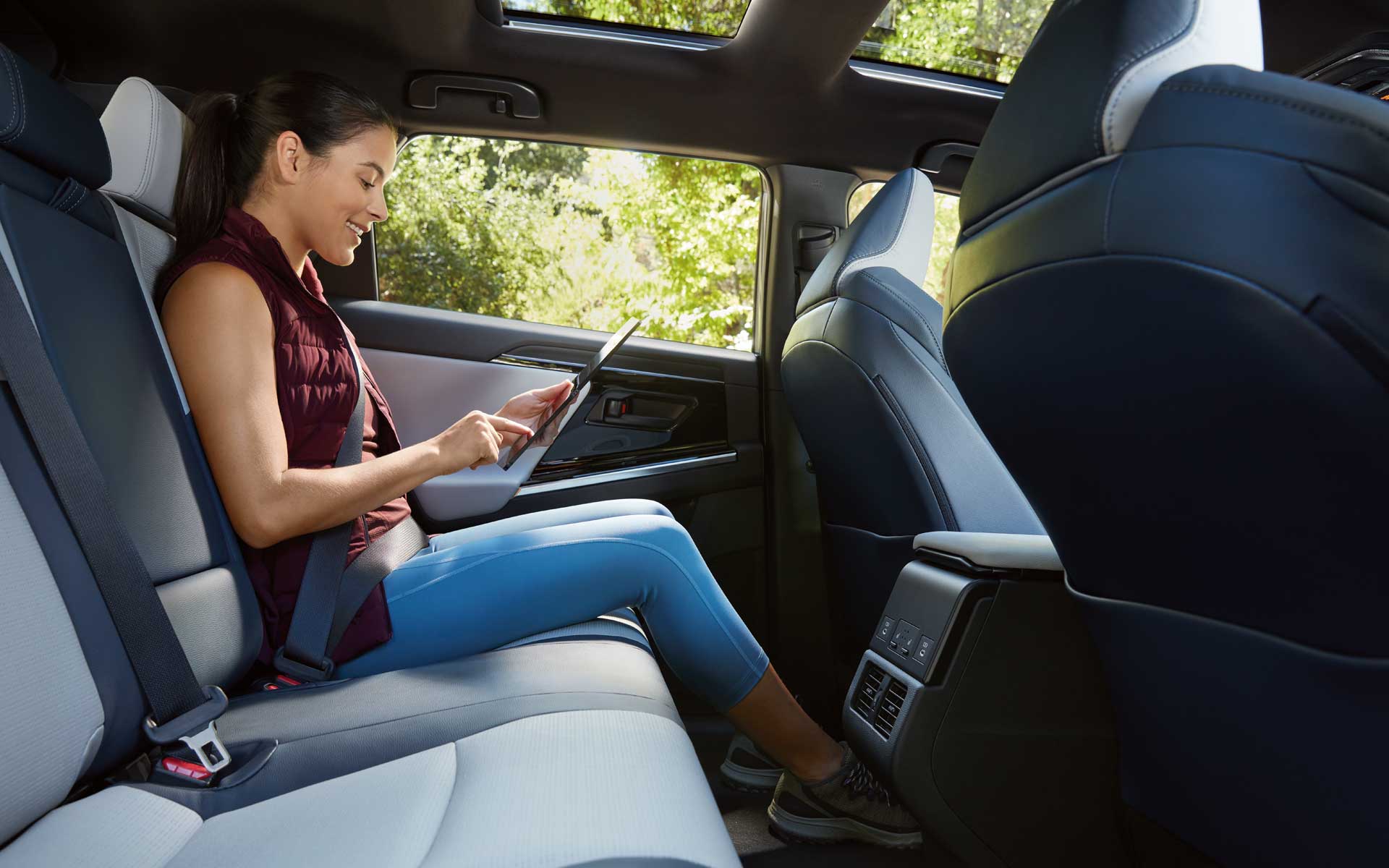 Spacious Interior with Advanced Comfort
With up to 126 cubic feet of passenger space, generous rear leg room, and a flat floor, the 2023 Solterra gives you the airy, open feel of a much larger vehicle. Available StarTex-trimmed upholstery and high-quality, soft-touch materials throughout create a cabin that's both modern and full of convenient, comfortable features.
Adventure-Ready Cargo Space
The 2023 Solterra gives you up to 30 cubic feet of cargo space - more than the Kia Niro EV[230] - so you can bring along all the gear you need for your adventures. The low load height, a rear gate opening that's over 41 inches wide, and an available Power Rear Gate all make loading that gear even easier. If you're hauling larger cargo raised roof rails are available to take on extra gear, bikes, and more.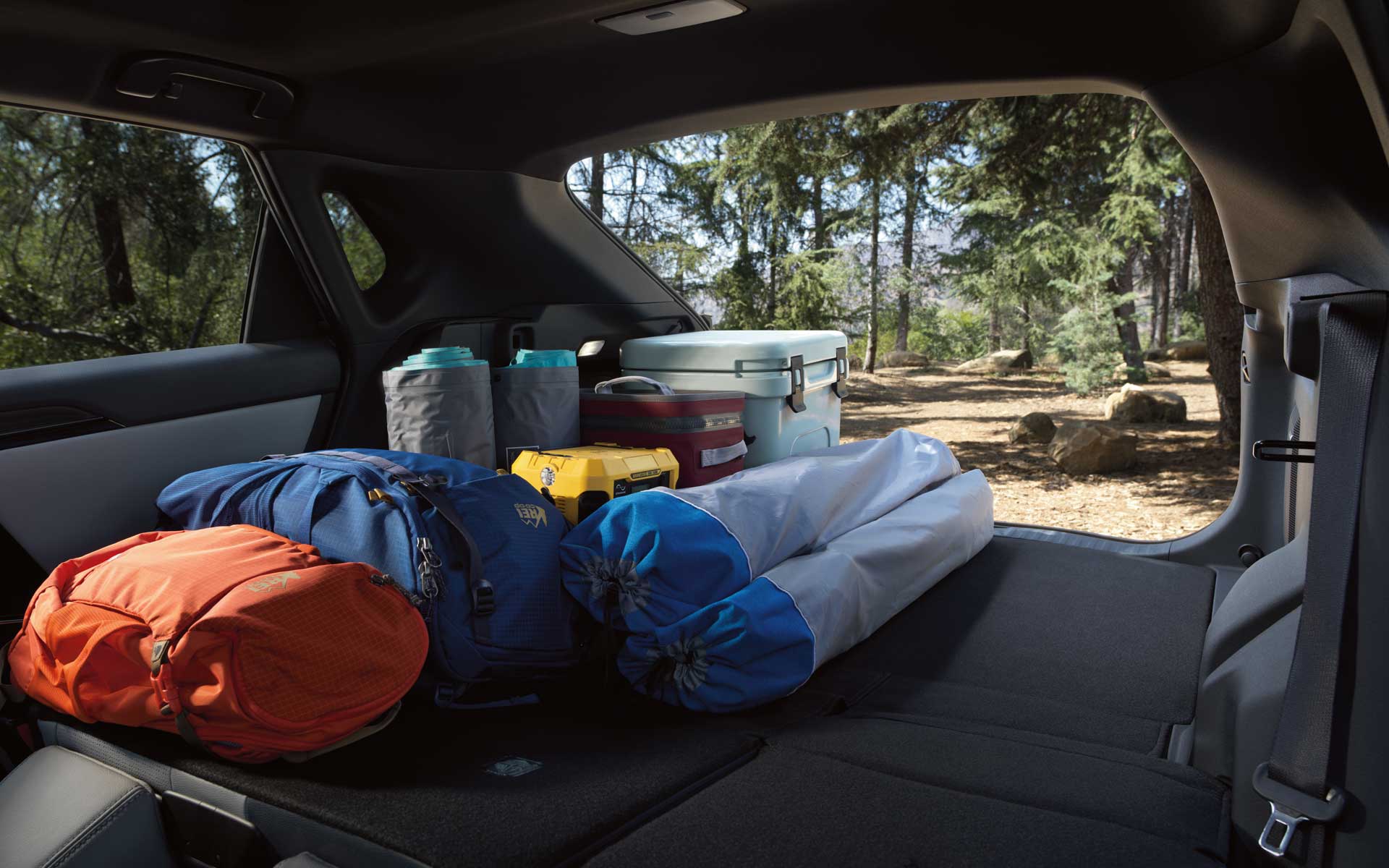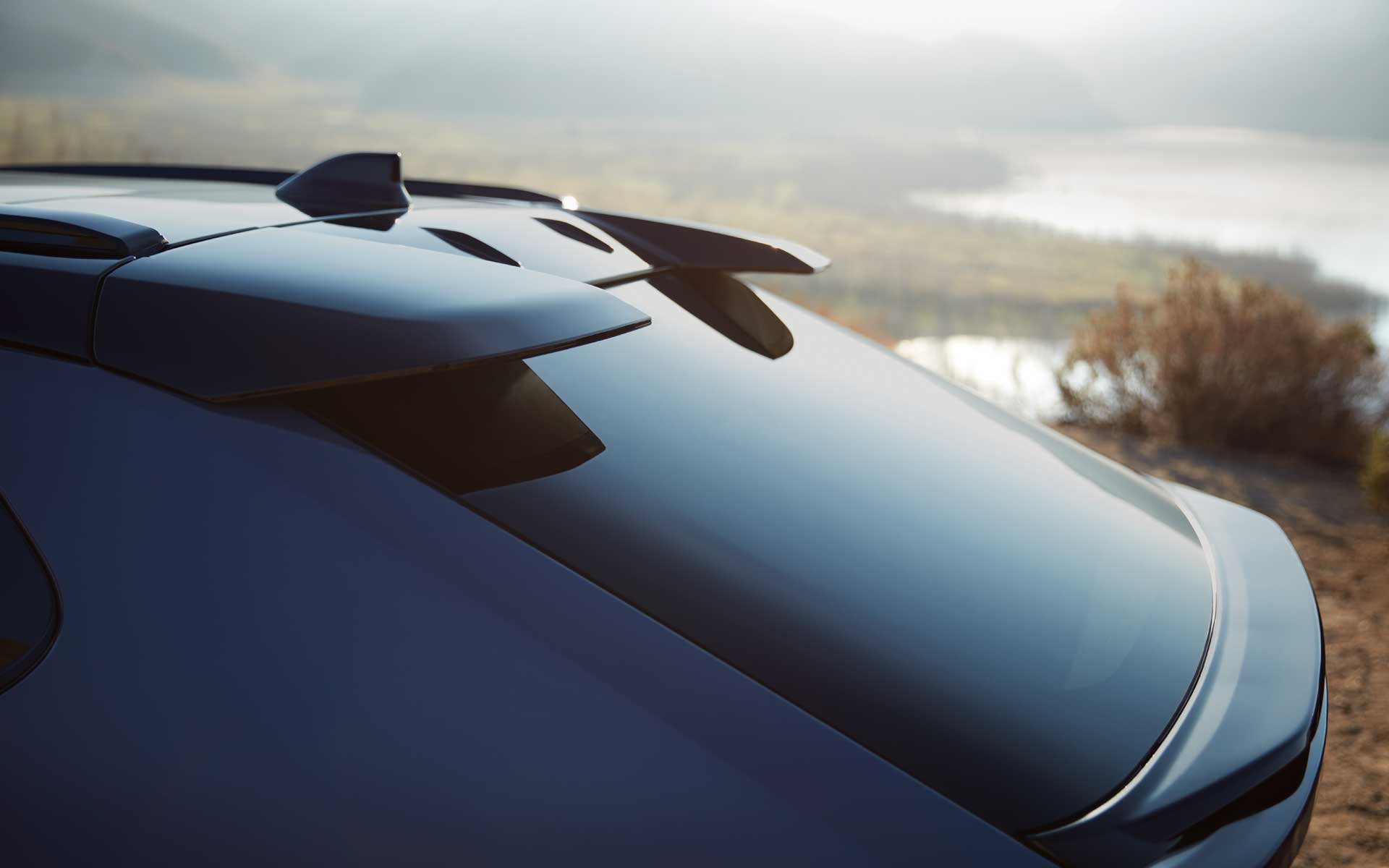 Advanced Aerodynamics
From top to bottom, every part of the 2023 Solterra is part of an evolution in vehicle engineering. The twin liftgate spoilers aren't merely a unique design element; they help manage airflow in concert with the full underbody tray for quiet, efficient, and safe driving regardless of weather and road conditions.
Subaru StarDrive with Sport and One-Pedal Driving[109]
Subaru StarDrive is engineered with the latest breakthroughs in electric vehicle technology to deliver substantial on-demand torque at all speeds for exciting everyday driving. It offers an enhanced driving experience through features like paddle shifters, an extra-responsive sport mode, and one-pedal driving[109] - which uses the regenerative braking system to allow you to keep your foot on the throttle for more convenience.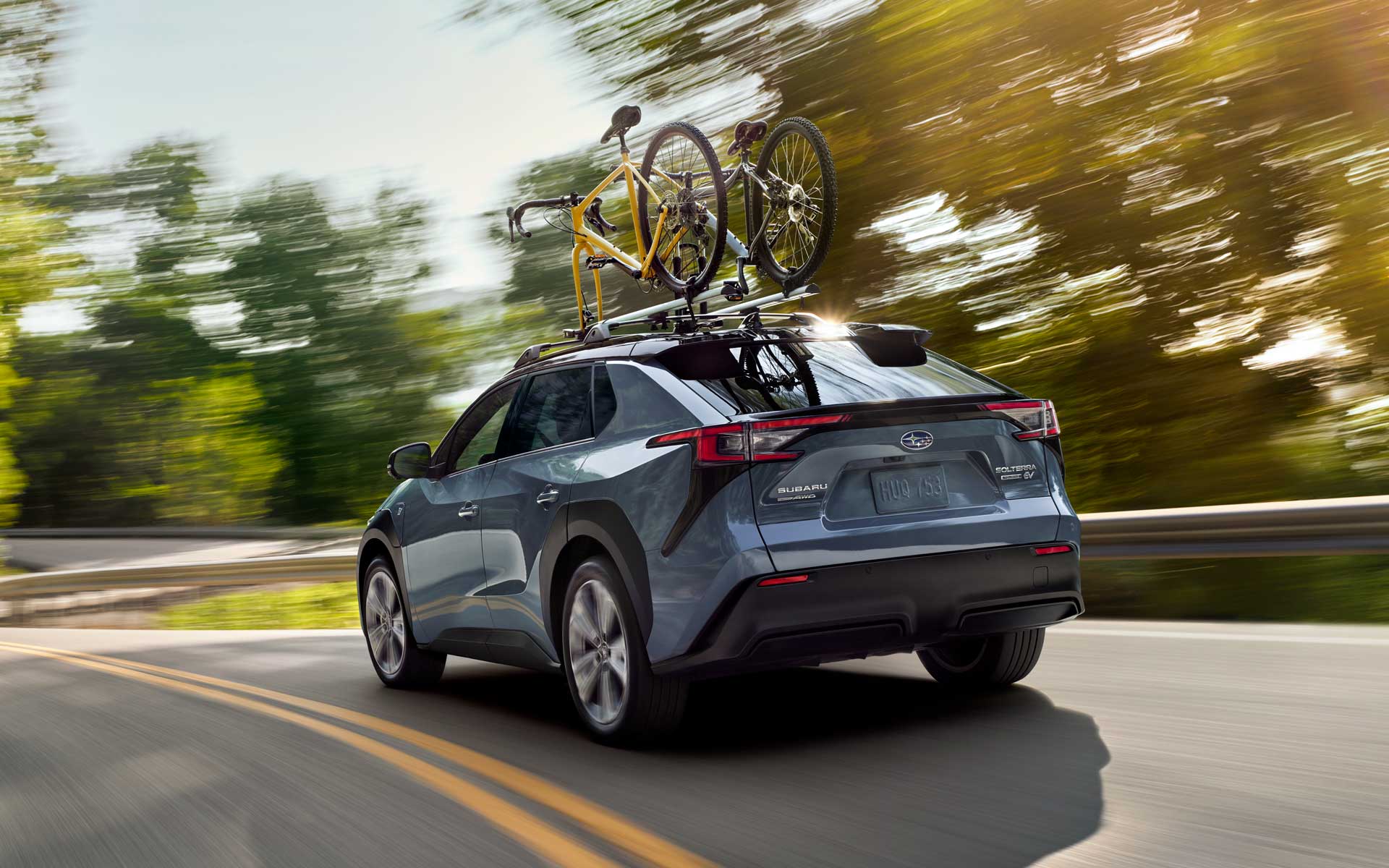 It may be the first of its kind, but the 2023 Solterra is still a Subaru at heart. You can trust a Subaru vehicle for miles and miles of adventure - 96% of Subaru vehicles sold in the last 10 years are still on the road today, more than any other brand in the industry
[219]
.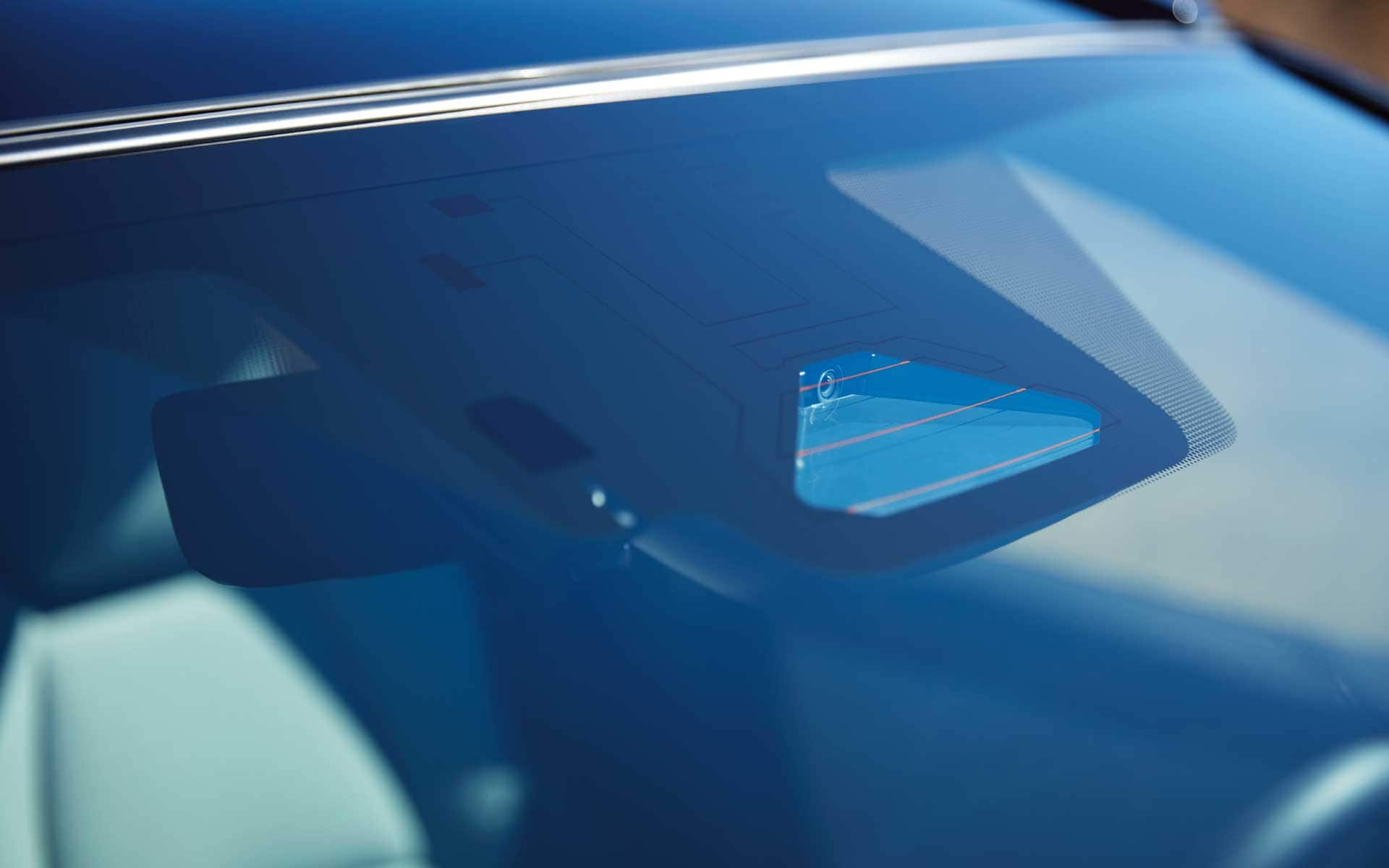 EyeSight Driver Assist Technology 
The 2023 Solterra features standard EyeSight Driver Assist Technology[104], which monitors traffic movement, optimizes cruise control, and warns you when you're swaying outside your lane. The automatic Pre-Collision Braking[113] feature can apply full braking force and bring you to a complete stop in emergency situations. Advanced Adaptive Cruise Control with Lane Change Assist[116] can take some of the stress out of driving by helping with steering, braking, and throttle control - both in daily traffic and on long road trips.
All-Around Awareness Technologies and 360° Surround-View Camera System
The 2023 Solterra features a comprehensive suite of active safety features to help protect you on every drive. A 360-degree surround-view camera system is available for enhanced convenience and safety when parking and reversing. The Blind-Spot Detection[105] system warns you with a visual indicator on each side mirror if it senses a vehicle in your blind spots. Rear Cross-Traffic Alert[105] helps warn you of traffic approaching from the side as you back up. And with Reverse Automatic Braking, the Solterra can even stop itself to help avoid objects behind you[112]. Safety Exit Alert, an all-new feature available for the Solterra, will beep and display a message if it detects danger when you are trying to open your door[105].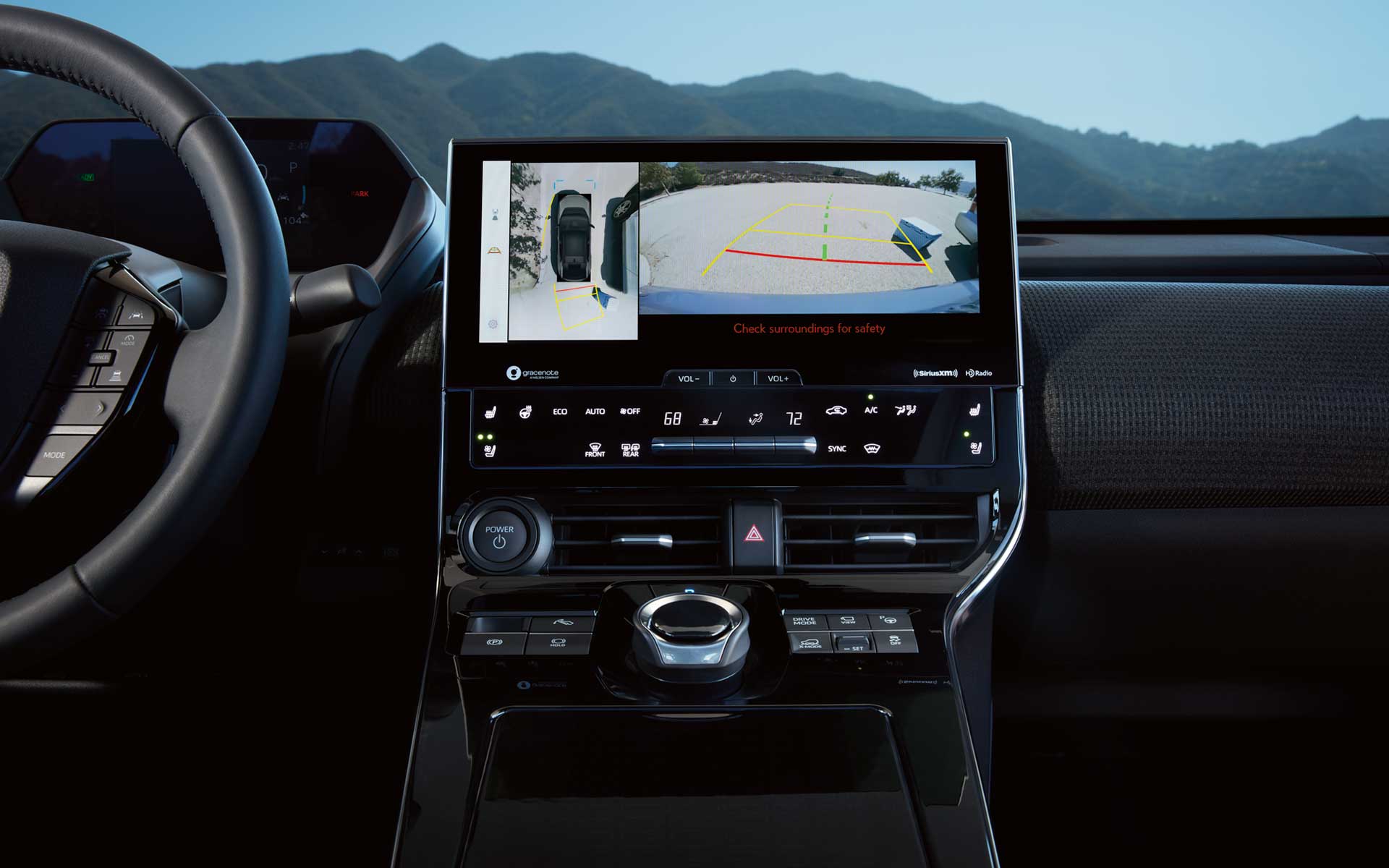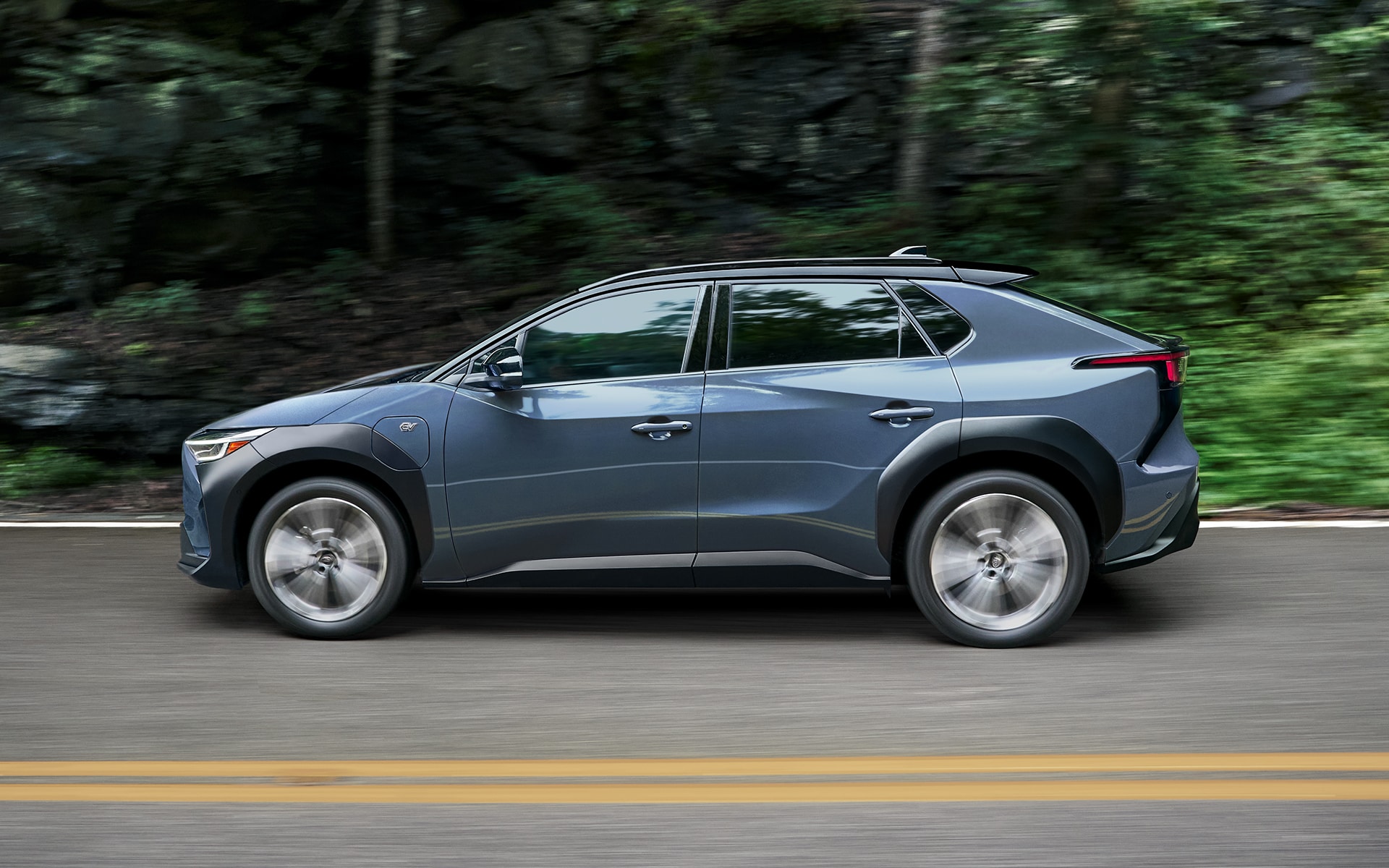 e-Subaru Global Platform
The 2023 Solterra is built on an all-new electric vehicle architecture called the e-Subaru Global Platform. Specifically designed for all-electric vehicles, the e-Subaru Global Platform is the most rigid vehicle platform ever built, featuring strategic crumple zones and a reinforced structure for confidence-inspiring crash protection.
The Solterra lets you explore the outdoors and help protect it at the same time. The advanced StarDrive powertrain means no tailpipe emissions and no need for gasoline or oil changes, so every mile has significantly less impact on the environment. The Solterra is the latest example of Subaru's commitment to safeguarding the natural world we all share - and it's just the beginning.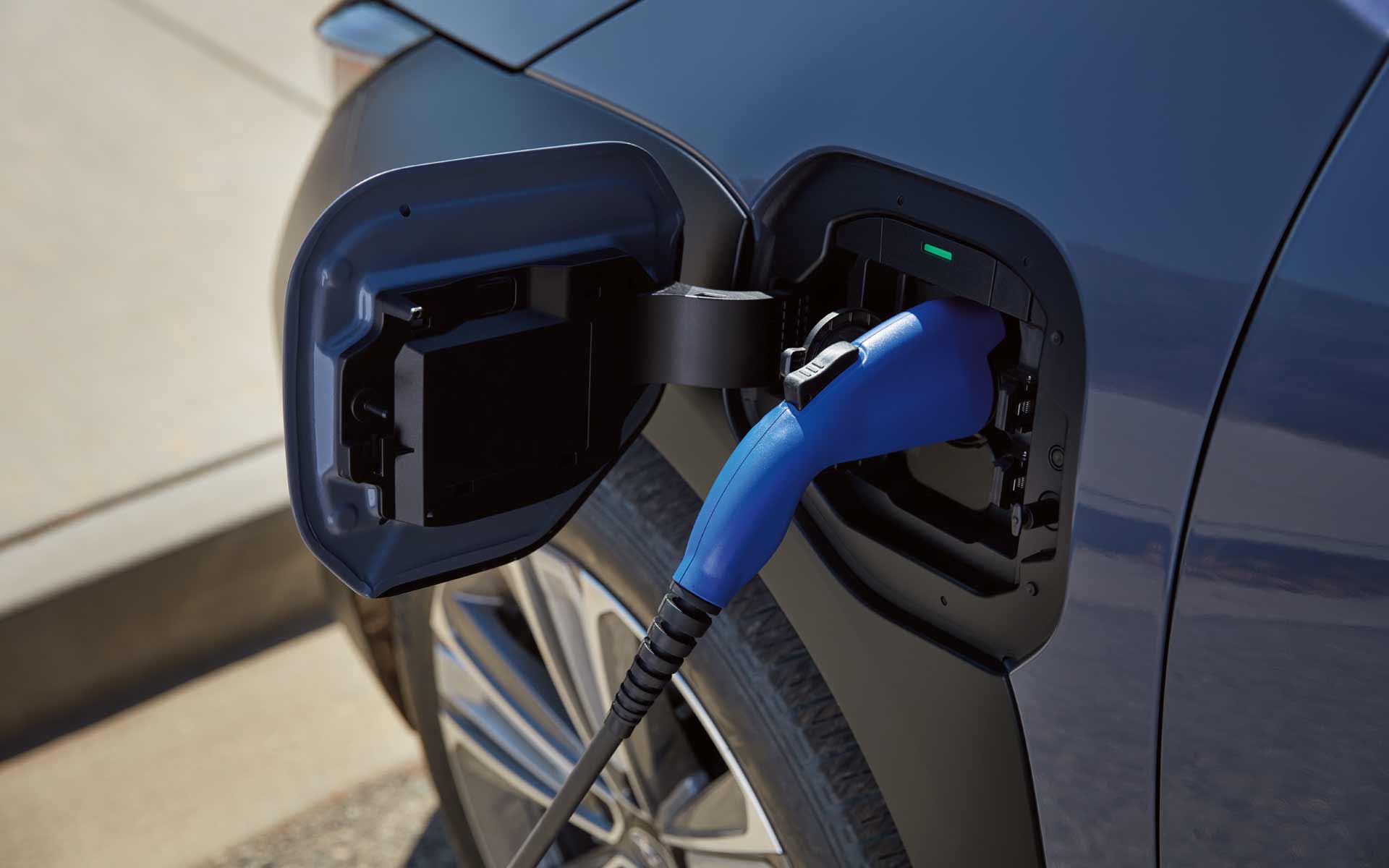 Over 220 Miles of Estimated Range with Standard Symmetrical All-Wheel Drive
The StarDrive powertrain gives you an estimated range of over 220 miles with standard Symmetrical All-Wheel Drive as well as a variety of options for fast and convenient charging, both at home and on the go. The Solterra comes with a charger that works with any standard 120V outlet for Level 1 charging, and you can have a 240V Level 2 charger installed for even faster charging. Either way you charge, you can wake up each morning to a full battery and all of the legendary capability of a Subaru, which means you're ready for any adventure[291].
Learn more about electric vehicles and charging
Charge on the Go at over 38,000 Charging Stations
When you're out on an adventure you have access to over 38,000 public charging stations across the country with Level 2 or Level 3 DC fast-charge options. Solterra features DC fast-charge capability that when paired with a L3 charger gives you 80% of your battery capacity in less than an hour. So you can go almost anywhere and find a quick, convenient charger nearby.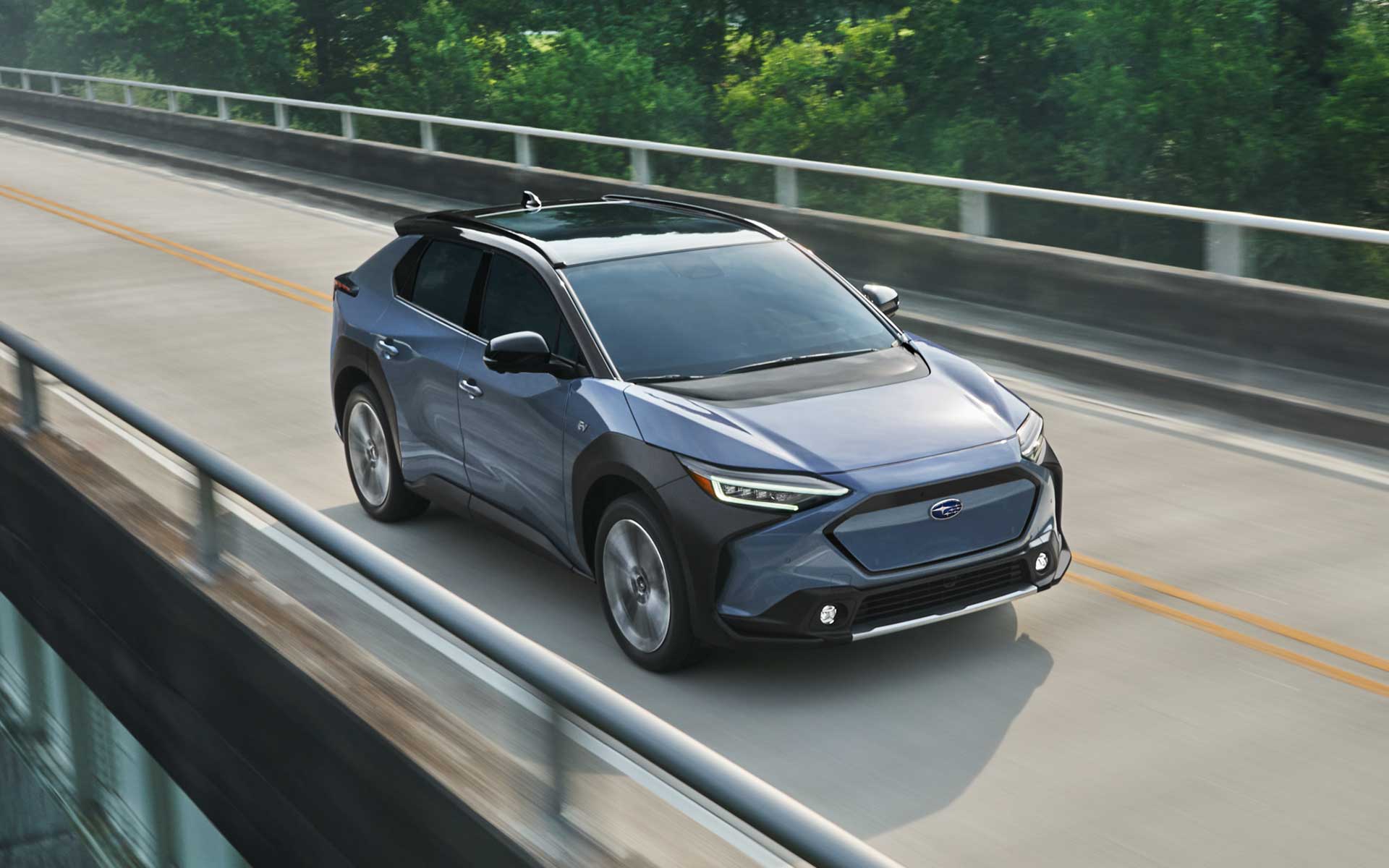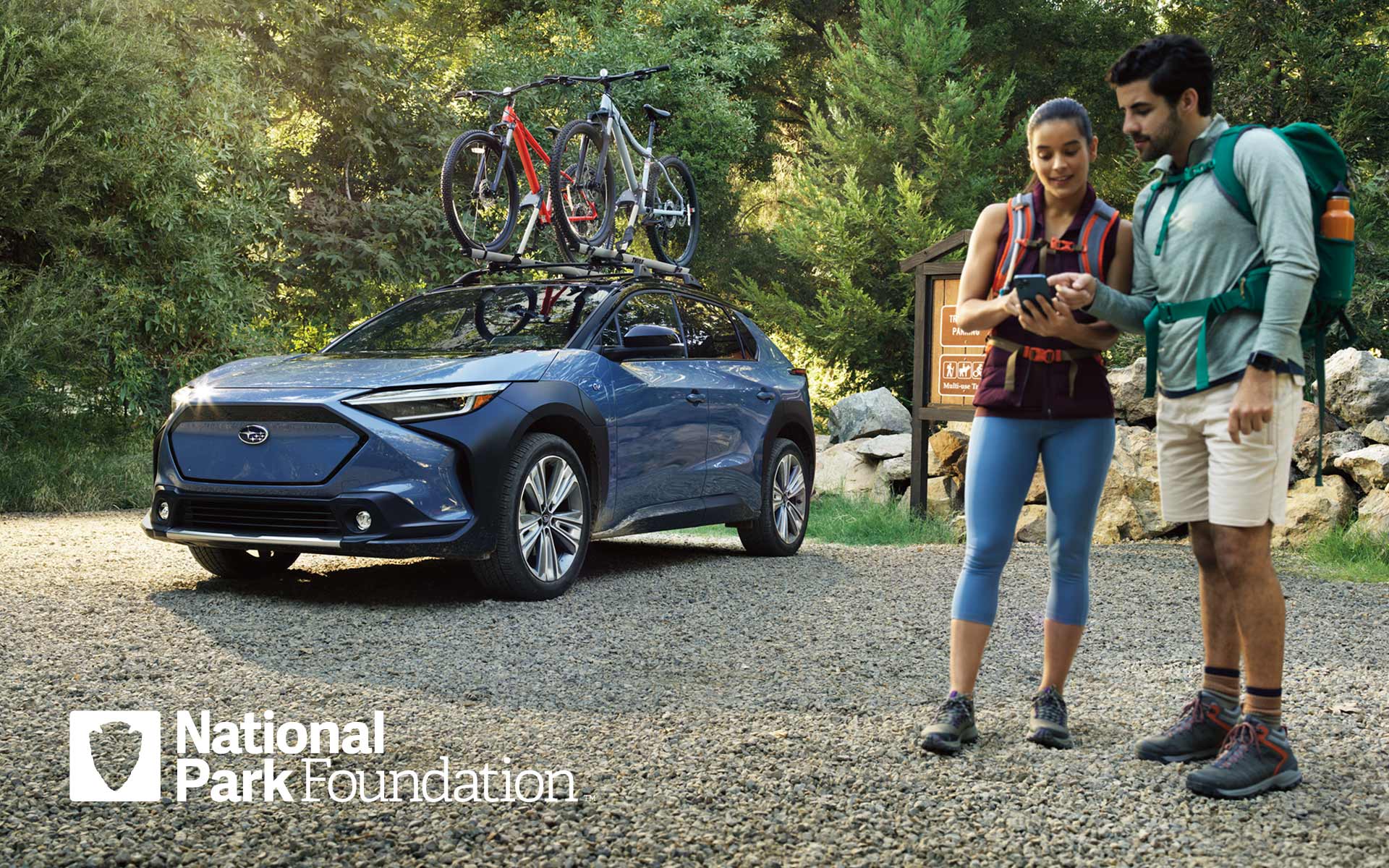 Preserving Our Parks
As the largest corporate donor to the National Park Foundation, Subaru has a long history of commitment to protecting our nation's greatest treasures. Subaru has provided over $68 million in support to organizations helping to protect over 85 million acres of land in America's more than 400 National Parks. Subaru has also donated its zero-landfill expertise and funding to the parks to help them become more sustainable through the Subaru Don't Feed the Landfill initiative. 
Advanced Comfort and Convenience
The 2023 Solterra features the most advanced multimedia system yet, with standard wireless Apple CarPlay® and Android Auto™ integration and a high-resolution 12.3-inch touchscreen that's available for even more intuitive control. On select models, you can even charge your smartphone wirelessly in the center console while you safely operate the wire- and hands-free connection and enjoy your favorite apps and content. Plus, you can access news, navigation, music, podcasts, and more through available cloud-based apps and SiriusXM®
[553]
.
Subaru Solterra Connect
Embrace new levels of connectivity with the Solterra Connect app - available through your smartphone.  Remote Start with Climate Control, Smart Navigation, and Remote Lock/Unlocking all contribute to a more convenient and connected drive. A cloud-based, voice-activated voice assistant is available for safer, easier navigation and other tasks. By just saying, "Hey, Subaru," you can keep your hands on the wheel and let the assistant handle the rest. If you subscribe through Solterra Connect, you'll have access to updated navigation features that allow you to find the nearest charging stations.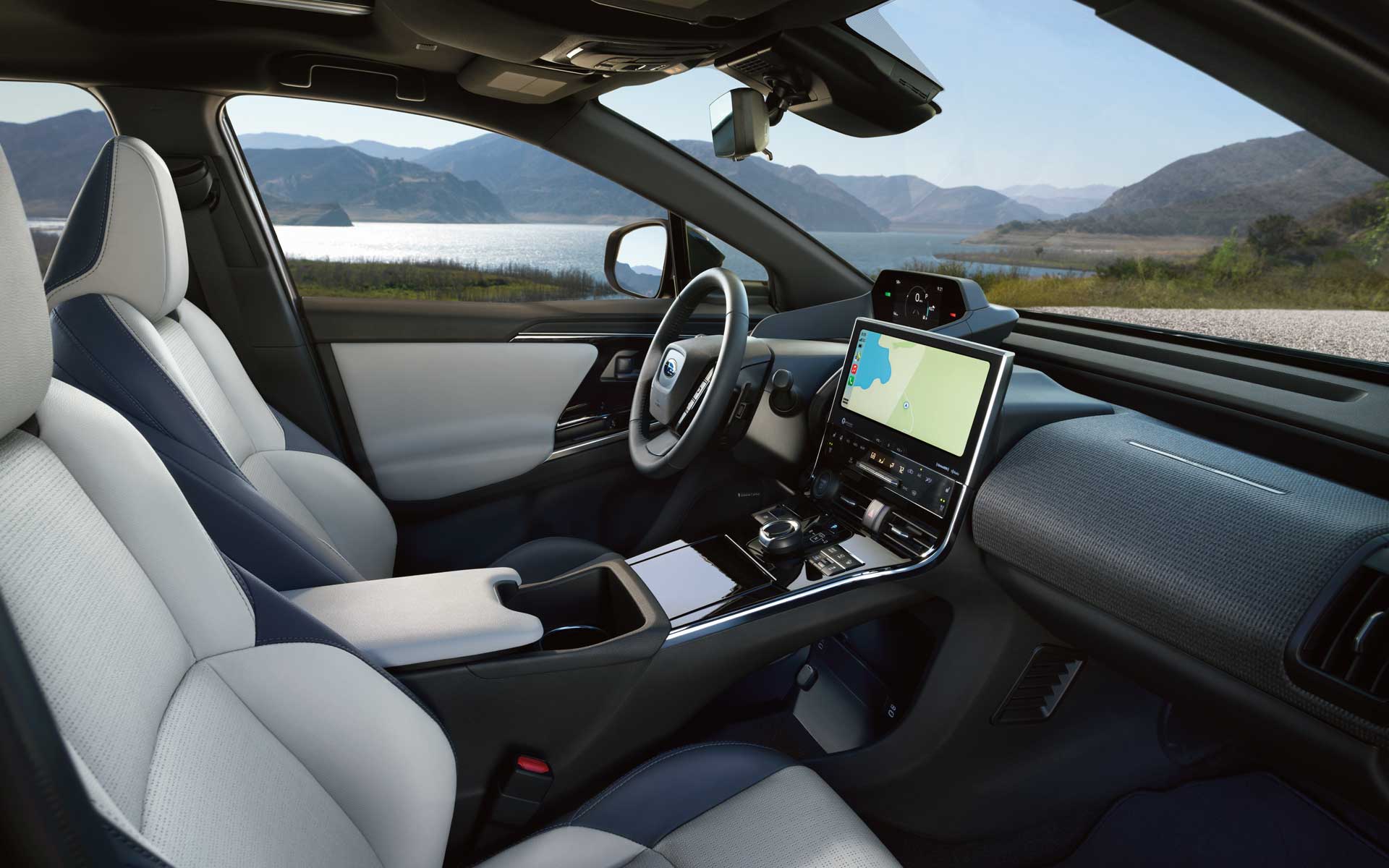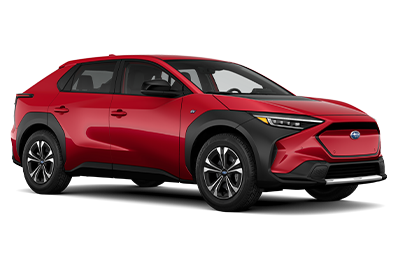 Premium
Subaru Symmetrical All-Wheel Drive
8.3 inches of Ground Clearance
X-MODE and Hill Ascent/Descent Assist
StarDrive Zero-Emissions All-Electric Drivetrain
EyeSight Driver Assist Technology 
Automatic Climate Control
Blind-Spot Monitoring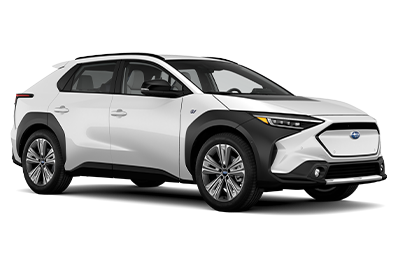 Limited
Includes all Premium features and adds:
20-inch Alloy Wheels
Fog Lights
Roof Rails
Dual Liftgate Spoilers
Power Rear Gate
Power Driver's Seat
Heated Front/Rear Seats
StarTex-Trimmed Upholstery
Heated Steering Wheel
12.3-inch Multimedia System with Wireless Apple CarPlay® and Android Auto™ Integration
Cloud-based Navigation and Voice    Assistant Capability
Wireless Device Charging
Auto-dimming Rearview Mirror with    Homelink®
Harman Kardon® Premium Audio Speakers
360-degree Surround-View Camera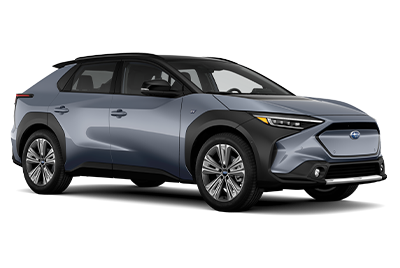 Touring
Includes all Limited features and adds:
Glass Roof with Retractable Sunshade
Ventilated Front Seats
Display Rearview Auto-dimming Mirror
Interior Illuminated Trim
Available Two-Tone Roof Paint
How long does the Subaru Solterra take to charge?
---
With the built-in-fast charge capability of 100kw/hour on the Solterra, you can get an 80% charge in under an hour from a Level 3 DC fast charger. For charging at home, we recommend charging your battery overnight, just like a smartphone, so you're always ready to go anywhere with a full charge in the morning.
Is a home charger included with the vehicle and where can I purchase additional chargers?
---
Yes, the Subaru Solterra comes with a Level 1 120V charger. You can also have a Level 2 240V charger professionally installed in your home for an even faster charge if you want.
What type of charger do I need to charge the Subaru Solterra when I'm out and about? How do I find this type of charging station?
---
Since your Solterra can go over an estimated 220 miles on a full charge completed overnight, the need to charge while running errands should not be a common occurrence. Should you need to charge while on the go, you have access to over 38,000 public Level 2 or Level 3 DC fast-charge stations across the United States. If you do need a charge away from home, your best bet is a Level 3 DC fast charger with a CCS plug. The super-fast DC charger can charge up to 80% of your battery in under an hour.
Because it's an EV, should I stick to the pavement?
---
Not at all. With standard Symmetrical All-Wheel Drive, X-MODE, and best-in-class ground clearance, the 2023 Solterra allows you to do everything a Subaru is built to do. So if you're heading out on an off-road adventure, you can count on all-terrain fun.
What incentives are there to buy an EV?
---
A federal tax credit incentive of up to $7,500 is available. Additional incentives, tax credits, and discounts may be available based on your location and employer. Make sure to look into your local state information about electric vehicles.
Prototype vehicle shown with accessory equipment. Feature names, product content, and estimates based on manufacturer information at time of publication. Subject to change.